APPLAY – Best App Showcase & App Store Website Design
Applay is a multipurpose WordPress web design for App showcase, Appstore, App Landing, Business and Shopping.
Applay comes with Drag & Drop Builder, Exclusive Interactive Mobile Mockup plugin, Unlimited Colors & Layout…
An awesome web design which doesn't need Photoshop to build Beautiful Showcases & Store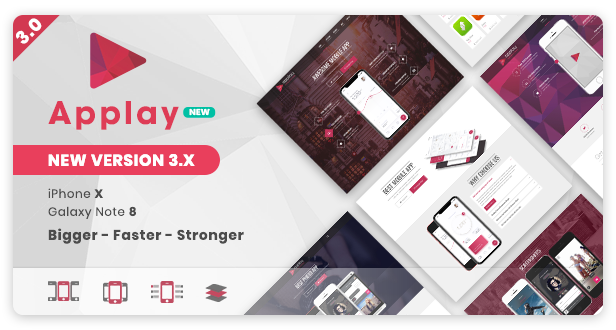 More demo:
WHAT THEY SAY
syncinteractive –
(Feature Availability) By far one of the best wordpress web designs I've used (and we have used a LOT!).
Super quick to install, literally takes minutes to customise, super transitions and animations, so many preset options to choose from, and the customer support is second to none.
Can't recommend it highly enough, to see what we did with it and how different you can make it look check it out at: http://www.tikitapa.com
Can't wait to see more web designs from this developer.
costelumbu –
(Design Quality) Awesome web design. If you want to showcase your app, you won't find a better web design than this. Customer support is good as well
syncinteractive –
Absoluteley killer web design!!! I used it over at http://www.tikitapa.syncinteractive.co.uk for our new footy mobile game we are working on, and the web design is so slick it's incredible.
1 day on it and the site already looks amazing. So easy to modify, so smooth and sexy and so many options.
By far one of the best web designs I've used to date! SUPERB!
h7ngtmip –
Awesome work! My clients love it and I love it
Showcases are nice too
Best wp web design! I will continue using it in future projects
LChief
KEEP IT UP! It's not just awesome, it is also beautiful! My team loves it!
LeilasLass
SOLD !!!! Gorgeous Just what I never knew I wanted. Was not even looking for one, was looking for a video gallery. Great item, stunning
bunnydesign
Hi, your web design is really amazing. I feel easy to build my app landing page How could you make those pure-CSS-mobiles? It's so awesome that I can build my website without using photoshop. I can tell that – This is a best best web design I've ever used, other web designs are just grid + photoshoped images
Maytar
I don't use to give 5 stars but this customer service support is the best I have ever had. I'm their fan#1
samkishline
Design Quality – Slick animations and a great professional overall look.
FULL FEATURE LIST
Auto Fetch App info from Apple iTunes & Google Play (title/description/screenshots/icon…) (New in 2.0)
Support External Screenshot Image Urls (New in 2.0)
Easy Easy and Easy Build with Friendly Website Design Options
Quick Quick and Quick Setup with Demo Data included
User Submit App Form with Auto Fetch and Email notification
Ultra Responsive Design (Build with Bootstrap)
Retina Ready
4 Homepage variations and Unlimited Possibilities
3 Appstore variations and Unlimited Possibilities
3 Header Styles x 2 Header Schemas (Dark/Light)
2 Website Design Styles (Modern/Classic)
Mobile Showcase Builder Plugin – create mobile mockup without Photoshop
Parallax & CSS Animation Effect
ONE PAGE option
Drag & Drop Page builder – WPBakery Page Builder included (you save $25)
Quick Ajax – Modern Ajax Query included (you save $17)
Flexible, powerful and beautiful Shortcodes
Unlimited colors and layout
Built-in Widgets and custom widget layout settings
Sell or promo Mobile Apps using WooCommerce
WooCommerce Integrated – Sell your product online easily
Multi Vendors support (with WC Vendors)
Social Accounts and Social Sharing
Fully customizable with Website Design Options
Sample data included
Support WP Pagenavi, Contact Form 7, Flickr Badges Widget…
Support All Google Fonts
Font Awesome Integrated
WPML Ready – For multi-language website
bbPress Compatible – Build your forum in seconds
Auto Update – TO keep your web design updated to the latest version
Customizable Preloading Effect
(Updating)
Our Customer's Sites Showcases
http://freeze2.com/
https://app.flipp.com/
http://www.idevmobile.com/
http://velogram.co.uk/
http://etinteractive.in/
http://www.brewtowngame.com/
https://www.shellyapp.it/
http://www.mffais.com/
https://palsion.com/
https://www.yupi.app/
https://prospex.app/
https://upcomingmedia.com/
https://www.cometfailover.com/
http://vcareall.com/
http://appboxmedia.com/
https://handcity.app/
http://avviomobile.com/
http://maintain-auto.com
http://donutmarketcy.com/
https://www.officecurry.com/
http://apps.mundogaturro.com/
http://savingenergy.com.mx/
http://www.graphicvizion.com/
https://www.findthetreasure.com.au/
http://roxlif.com/
http://www.mutees.com/
http://abcapps.co.uk/
http://ylmobilesolutions.com/
http://fans2gether.com/
http://pnliveapp.com/
http://rollrandom.com/
http://www.jemz.com.my/
http://hartar.com.my/
http://www.stepes.com/
http://master-of-monsters.softdesign-apps.ru/
http://www.marketadvisors.ca/en/
http://www.liftingsolutionstx.com/
http://www.hotoneaudio.com/
http://app.homesmart.pl/
https://redepraja.com/site/
http://cubetastic-stage.azeitler.me/
http://moting.co.kr/
http://www.gamesboosters.com/
http://www.socialcurry.com/
http://timedapp.com/
http://get-garcon.com/
http://hugoawards.dk/
http://ownthisgame.com/
https://jacanawarranty.com/
https://dgcasino.com/
http://www.blackgold.io/
And lots more… it's your turn
Changelog
 26/05/2021 - 3.6.1: - Update WPBakery page builder - Bugs fix 29/09/2020 - 3.6: - Update WPBakery page builder - Bugs fix - Woocommerce compatible update 21/12/2019 - 3.5: - Update WPBakery page builder - Bugs fix 22/04/2019 - 3.4: - MAJOR UPDATE!!! (to meet Envato's new requirement) - Change text domain (you might need to translate web design again) - Change some functions name. - Moving some functions & files to plugins (you need to reinstall/update all included plugins) - Change images thumbnail size name (you need to regenerate thumbnail image) - Google Play Auto-Fetch fix 03/04/2019 - 3.3: - WordPress 5.x Compatible - Update Visual Composer - Gutenberg Compatible CSS - Google Play Auto-Fetch fix 02/01/2019 - 3.2: - WordPress 5.x Compatible - Update Visual Composer - Polylang Compatible - Improve Auto Fetch Google play - Improve Mobile menu - Update Woocommerce website files - Fix cart page bug - Improve RTL - Bugs fix 05/06/2018 - 3.0: - iPhone X & Galaxy Note8 ADDED! - Update Woocommerce website files - Improve web design's code 13/04/2018 - 2.4.7: - Update Visual Composer - Update Google play fetching - Update Woocommerce website files - Fix social share in single product 11/07/2017 - 2.4.5: - Update Visual Composer - Improve default widget style - Improve & update woocommerce website files 05/05/2017 - 2.4.4: - Support Woocommerce 3.x - Fix contact form 7 notice - Update Visual Composer 31/07/2016 - 2.4.1: - Support Woocommerce 2.6.x - Fix app columns bug - Update Visual composer - Update TGM core - Optimize code - Bugs fix (You should backup all web design/plugins code before up to this big update version!) 28/03/2016 - 2.3.2: - Support Woocommerce 2.5.x - Update Visual composer - Add open new tab option for button shortcode - Update Auto fetch functions - Bugs fix 26/08/2015 - 2.3: - Support Wordpress 4.3 - Support Woocommerce 2.4.x - Add custom app store link - Add custom app meta - Fix app icon "alt" missing 01/08/2015 - 2.2.4: - Update Visual Composer - Fix https - Fix Woocommerce page 14/05/2015 - 2.2.2: - Update optionTree - Update TGM class - Fix Woocommerce cart page - Front page sidebar fix - Avatar bug fix - Bug fix 13/04/2015 - 2.2: - Add new showcase devices: iPhone 6, iPhone 6+, Apple Watch, MacBook Pro, MacBook Air - Add Orientation option for Showcase Device - Add New shortcode: Pricing Table - Fix Portfolio download link - Improve Auto Fetch Data - CSS bug fix 26/02/2015 - 2.1.3: - Fix User Submit App for Google Play URL - Improve Auto Fetch Data for user submit App - CSS bug fix 14/02/2015 - 2.1.1: - Add User Submit App Feature - Fix Auto Fetch Google Play blank screen bug - Fix Listing mode bug - Improve Auto Fetch screenshots for iPad's app - Update for latest Woocommerce 2.3 30/01/2015 - 2.1: - Add Auto Fetch App info from Google Play (title/description/screenshots/icon...) - Add Support External Screenshot Images link - Fix Product Listing Shortcode IDs parameter - Fix Css bug 29/12/2014 - 2.0: - Add Website Design Option: Website Design Style Modern/Classic  - Auto Fetch App info from Apple iTunes (title/description/screenshots/icon...) - Add Single Product Style option (Woo/Listing) - Add Custom Screenshots Url for single product (external image urls) - Fix Sticky menu Icon - CSS Bug fix 05/12/2014 - 1.3: - Add WC Vendors compatible - Add Store Listing Mode - Website Design Option Custom code fix - CSS Bug fix 18/11/2014 - 1.2: - bbPress compatible - WPML compatible update - Bug fix