MetroShop – Premium Responsive OpenCart web design with powerful admin panel, different layouts, and unlimited colors!
MetroShop is a universal 100% responsive OpenCart Premium web design for any kind of shop with stylish MetroUI style design and powerful backend and it's created with using the latest HTML5 and CSS3 features. Admin panel with easy navigation and 300+ configuration options allows you to change every thing in web design without learning HTML or CSS. You can manage colors of 150+ web design elements, select 500+ amazing fonts, apply 40+ pattern backgrounds and setup hundreds of web design settings and effects!
Website Design compatible with OpenCart: 1.5.4.x, 1.5.5.x, 1.5.6.x
MetroShop web design also available for Magento here.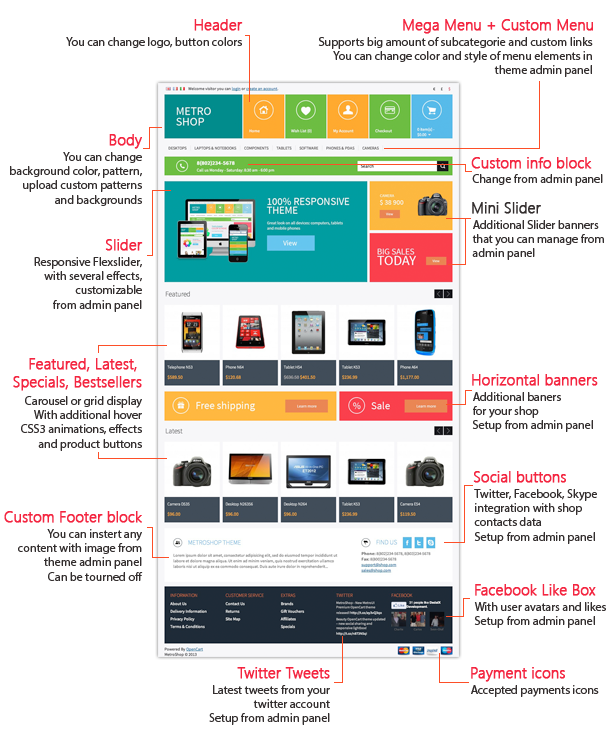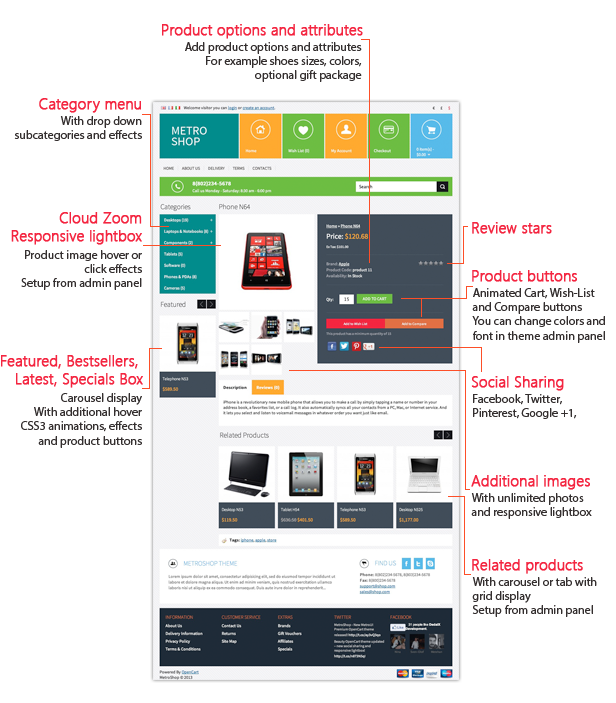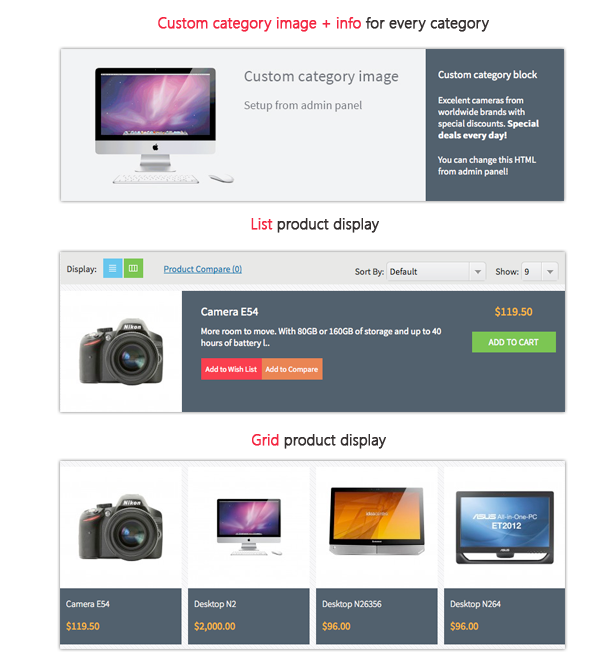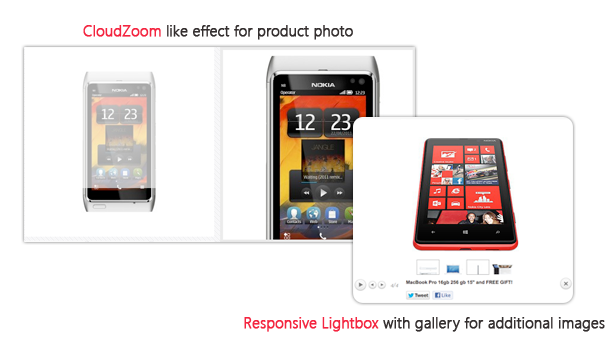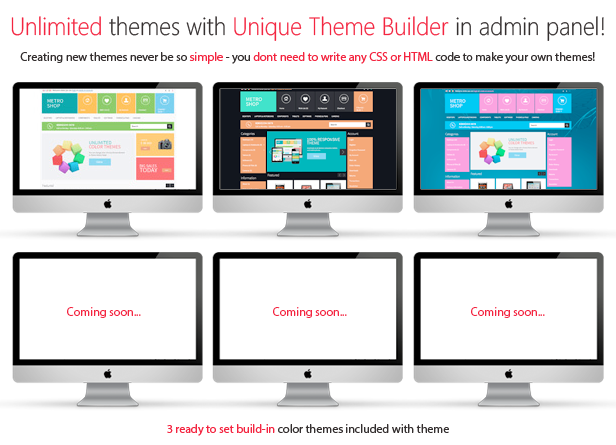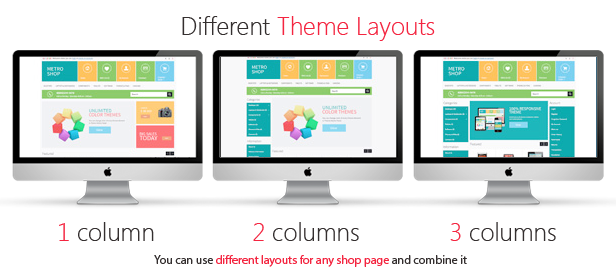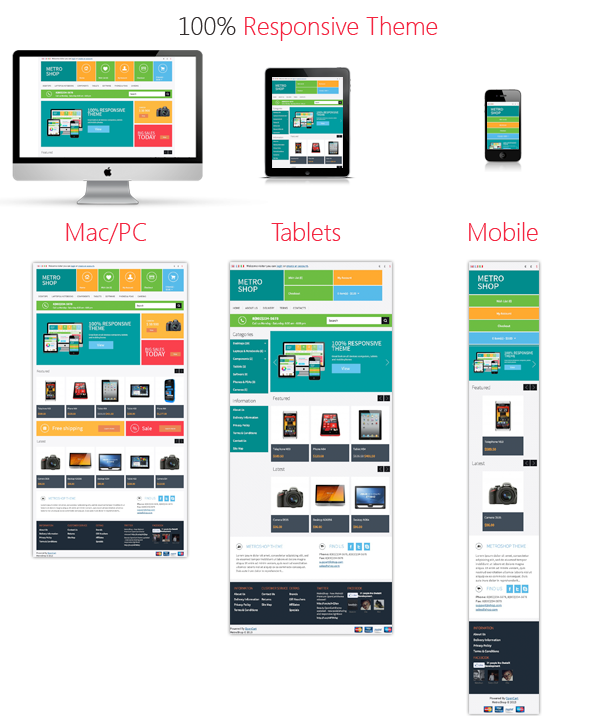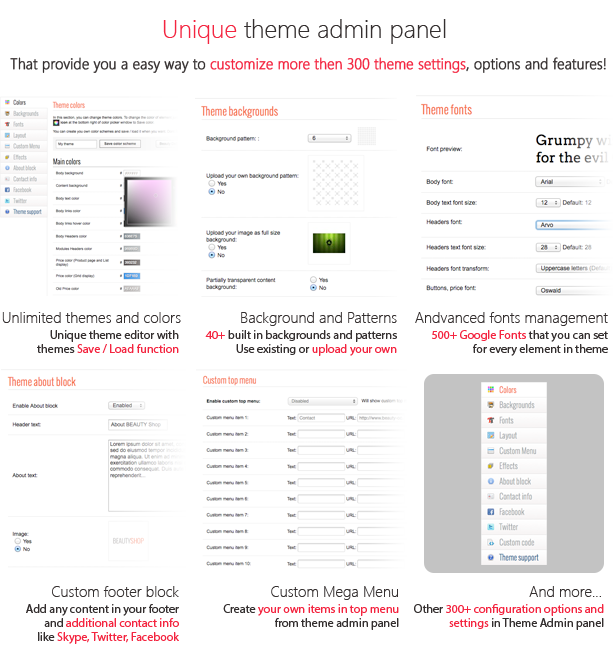 Website Design features list
100% OpenCart 1.5.4.x, 1.5.5.x and 1.5.6.x compatible

Amazing MetroUI style
100% Responsive web design! Check responsive look here
Unlimited color combination and web designs - make your own color web designs from admin panel, save and load it!
Several build-in color web designs provided!
Save and load color web designs in admin web design panel
Custom background textures and images, you can upload your own backgrounds and textures in web design admin panel
40 texture backgrounds included (more coming soon!)
500 Google Fonts for your shop included (you change font in web design admin panel)
Multiple web design layouts (Website Design support 1, 2 or 3 column layouts!)
Single or multicolumn web design layout (configurable in web design admin panel)
Advanced responsive Slideshow and Carousel effects with Swipe gesture support for mobile devices
Advanced slider mini banners and images for home page (see Demo site). All setuped from Admin panel.
Custom top menu feature – make your own menu with any links instead of standard OpenCart category top menu
Custom footer feature – make your own footer with additional information from web design admin panel
Facebook Like Box integrated (setup from web design admin)
Twitter tweets Box integrated (setup from web design admin)
Custom category block for every category with big image and description! (see Demo here)
Styled dropdown menus
Accordion effect for category module (see all subcategories without reloading page!)

Facebook, twitter, google+, pinterest share features for products
Advanced CSS3 and HTML 5 animations and transitions for web design elements
Auto adjustable web design buttons automatically fit 1, 2 or 3 column layouts
Carousel display for all standard modules (can be turned off from web design admin)
Cloud Zoom like image effect

Advanced responsive image lightbox effect with gallery
JQuery enhanced web design – advanced effects and plugins included!
Grid / List product view
Product options & attributes support – see how this looks here
All default OpenCart modules was completely redesigned to fit this web design
SEO optimized markup and layout
No copyright design in footer or orders
Mega menu for categories with large set of items
Custom fonts live preview in web design admin
Multi language
Multi currency
Payment icons
Fully localized
Cross browser compatible
No core files changed or modified!
PSD web design files included for FREE!
Slider images PSD files provided!
Banners images PSD files provided!
Fast&Easy web design setup within 5 minutes
Well documented, full installation and configuration guide included!
Excellent dedicated support
Product photos that you see in Demo shop just a sample and are not provided with web design.
Release History
To upgrade your web design to newer version just add new and replaces changed files.
Read list of files changes before upgrading:
MetroShop web design files changelog
Version 1.5.8 – 14.06.2013
Added – Twitter API 1.1 support
Version 1.5.7 – 12.06.2013
fixes – Product page product image display z-index (menu overflow bug)
fixes – minor fixes
fixes – mobile view footer fixes
added – custom menu items now displayed in mobile menu

Version 1.5.6 – 18.03.2013
added – new CloudZoom scripts with additional images support and CloudZoom for mobile responsive view
fixed –wishlist and compare buttons display fix for Google Chrome
fixed – name shortening for related products on product page for non english languages

Version 1.5.5 – 01.03.2013
fixed – Filters module display in OpenCart 1.5.5.1 and later
Version 1.5.4 – 20.02.2013
fixed – 2 and 3 column layout bugs in some browsers and tablets
fixed – terms and conditions (and some other popup windows) background color in Dark Website Designs

Version 1.5.3 – 19.02.2013
fixed – return page layout bug
fixed – custom footer about block layout bug
fixed – special page empty button bug

Version 1.5.2 – 12.02.2013
fixed – logo repeat
fixed – product titles shortening encoding bug (for Russian and other special languages)

Version 1.5.1 – 08.02.2013
fixed – grid display layout fixes on Category page
fixed – php notices
fixed – css fixes
fixed – admin module footer
fixed – product page Add To Cart button animation

Version 1.5 – 31.01.2013
Fixed – notice messages in server log
Fixed – CSS fixes
Fixed – Google Chrome CSS3 Animation bugs
Fixed – Special and Manufacturer info pages layout fixes
Fixed – Logo now have center align
Fixed – admin module fixes

Version 1.4 – 31.01.2013
Fixed – background image does not work in OpenCart 1.5.5
Fixed – CSS fixes
Fixed – Special and Manufacturer info pages layout fixes

Version 1.3.1 – 26.01.2013
Fixed – Facebook Like box style in footer
Fixed – Contact page background bug

Version 1.3 – 23.01.2013
Website Design updated for new OpenCart 1.5.5.1 version.
Please update your OpenCart to latest 1.5.5.1 version before install or update web design!
After this upgrade web design will work on OpenCart 1.5.5.1 or later ONLY, because OpenCart developer changed module model in new OpenCart release and all old modules and web designs for OpenCart 1.5.4 will not work on 1.5.5 or later.

Version 1.2 – 22.01.2013
Fixed – admin module notices logs on servers

Version 1.1 – 18.01.2013
Fixed – checkout page problem
Fixed – correct color web designs added

Version 1.0 – 15.01.2013
– Initial release
Compatibility
This web design supports OpenCart versions 1.5.4.x – 1.5.6.x without modifications of core files (mods, hacks, vqmods), as there are NO modifications in core files. And we make sure it will work with any future OpenCart releases.
Please, rate this web design!
If you like our web design please do not forget to rate it with stars in your Downloads section and write a review in Comments! Thank you!
Website Design Support and installation service
Please use our
support system
if you have any questions about web design, but make sure that you have read latest web design documentation. We provide OpenCart and
web design installation service
for extra cost.